After Mt Chemo, my next metaphor for my 'journey' is a forest, a deep dark forest, based on a real one I encountered back in 2008 on Offa's Dyke.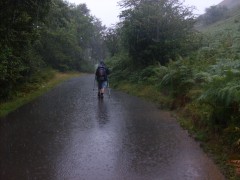 The antepenultimate day saw us walking through hours and hours of heavy rain past a place appropriately named World's End - a bend in the road where there is nothing much apart from a road sign. In this image of me on that road you get a hint of how wet it all was.
Eventually you reach some moorland that is quite, no, is very, boggy and upon which railway sleepers and duckboards have been laid to avoid the unwary walker sinking knee deep in mud and losing her/his boots/socks/composure. By the time we reached the moorland it had, for a time, stopped raining and an eery, steamy mist rose above it. And then came the forest.
Normally I like forest walks - green branches overhead, easy terrain to walk, shade from sun, canopy from rain - but this one had an eery quality to it being dark and dank; indeed my loyal friend found it altogether a scary forest. Every now and then we found bits of hazard tape across the pathway and signs warning us of forestry work (we could hear the odd buzz of timber cutting) and/or BMX tracks which had priority. The signage in the forest was poor and several times we had to guess the direction to take, along cloggy clay paths, knowing only that our direction needed to be 'down.' The day's rain meant a clingy grey mist hung thick in the air and at mid-afternoon it felt like twilight. It was cold, gloomy and seemed slightly malevolent.
Of course, as sensible adults and well experienced we knew everything was quite safe - the worst that could happen was to be a bit off track when we emerged at the other end, but it didn't alter how it felt. We could only see a few steps ahead, we didn't know if we would stumble upon a cyclist unable to stop on his/her downhill dscent, and of course we didn't know what lay before us because it was new to us. We trusted our guidebooks (especially our Trailblazer guide which is our favourite series because of their slightly off-beam humour that only walkers can trully 'get') but we still had to do the walking, through the murk, down the muddy path to the other side.
Having got there, having found ourselves at the most surreal B&B ever, having shared tales with other travellers, it all found it's right proportion, but it didn't make the experience any less real along the way.
And that's kind of how it is for my next phase of treatment - I have read the guidebooks, I have done the logical stuff, but it feels like a dark, deep forest through which I must walk, and parts of it alone (physically anyway - I will have hundreds of prayers for support). I know there is a far side to the forest, and I hope the 'B&B' is less surreal, but I can only get there one step at a time, along the road, across the moor and through the trees.
For now, it's the road and it's sunny, not raining, as I step along enjoying a few weeks away from almost all things medical.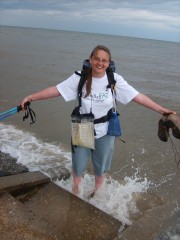 At the end of Offa's Dyke, it is traditional to paddle in the sea at Prestatyn... so we did. When I checked this photo I was reminded that Offa's Dyke was one of the walks where I'd been sponsored for charity, and on the last day my friend and I had worn appropriate teeshirts - hers for Breakthrough Breast Cancer and mine for MacMillan Cancer Care. Over the years we have raised in the order of £2k for cancer charities, remembering or supporting friends and relatives whose lives it has touched.
Once I've passed through my forest, once I've got through the various bits and bobs that follow it, once I am certified fit enough (if not sane enough) I feel there will be another walk on the horizon, a 'real' one to raise money so that one day, one day, no one will have to walk this particular walk.
(Remembering especially R, G, J)