23 November 2014
Free Sundays all too often disappear in a blue of nothingness, and so easily that could have been the case today. After a very long day out yesterday (travelling around 800 miles all told, in order to spend three hours with a special friend) I allowed myself to wake up 'as and when' before warming up an almond croissant for breakfast and booking a car so that I can go Christmas shopping tomorrow.
Then I looked out of the windwo, saw a cloudless blue sky, pulled on my boots, wrapped out and headed out for a walk, at the last minute putting my camera in my pocket. Initially intending a yomp of maybe 4 miles, I ended up walking what was apparently 8.5, and had a lovely time soaking up the industrial and archtectural delights I saw as I walked along the river into town, on to the People's Palace for lunch and a quick look at the museum then into the centre of town and out again past the Mitchell library and through Kelvingrove Park on my way home.
Just a lovely gift of a day... perfect weather, enough people around to make it vibrant but not so many it was crowded.
And the camera allowed me to snap some things as I went along - including domes, spires, statues, bridges, lunch and trees. I arrived home glowing from the exertion and glowing inwardly from a grand day out in this city that I love.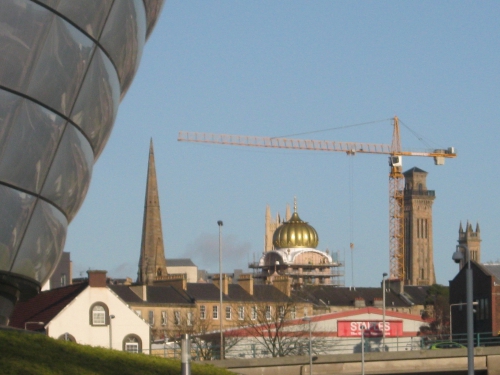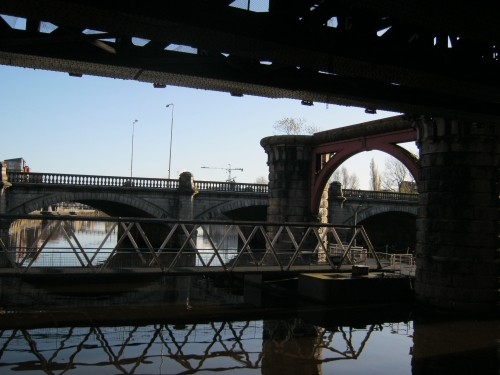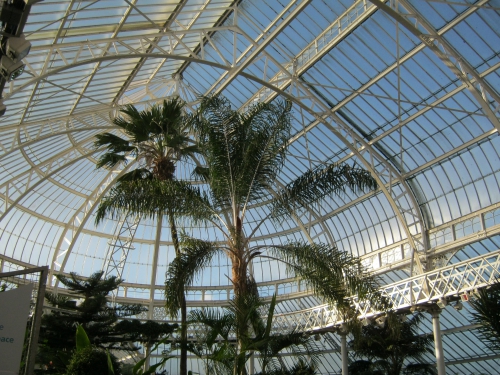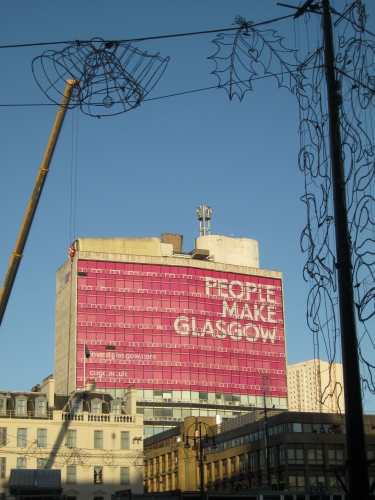 21 November 2014
It was quite moving, yesterday, to watch the report of Nicola Sturgeon being sworn in as Scotland's First Minister, and I loved the softly spoken adress to her, rich in words of encouragement for what will be challenging, and at times thankless, task.
I hope, though, that her status as "first woman First Minister" does not prove to be too much of a burden... we 'first women' can become objects of curiosity, derision, insult, controversy and more... I am sure she's a tough cookie, but I hope that she won't need to be too tough.
Watching her at her first First Minister's Questions, I felt for her... everyone, it seemed, taking the opportunity to get their two pen'orth of "will you now do what you predecesor did not", and she was heard to say "this is my first day..." No honeymoon period, straight in at the deep end... at least churches are a bit kinder!
Evidently Ms Sturgeon's desire is for a more consensual (consensus based) form of government, not so far my own endeavours to be a collaborative minister. That's not an easy path to walk, especially in an arena of huge personalities who may not share her desire. If 'consensus' is 'something we can all live with' then she has a huge task on her hands, but it's one that has huge potential for the good of all. This desire encourages me.
I don't have any party political allegiance, I am the archetypal floating voter, the one that everyone wants to woo but few bother with, because I am never in the target demographic; my thoughts would be broadly the same had she been from another party - this is not a covert SNP advert!!
Five years on from being a 'first woman' I have accommodated to the context in which I find myself; the novelty has long since worn off and mostly I just get on with the day job. There are still people who 'blank', critcise or inslut me for being a woman, or being English, or being from The Gathering Place, or any permutation or combination of the above... Sexism, racism, worldview-ism: I guess Ms Sturgeon may experience two out of three of those locally, and all three more widely. There are still times when the weight of responsibility is huge - and I am sure the same will be true for her too. If we mess up it won't because we are bad, or merely fallible, ministers, religious or political, but because we are women ministers. That's not fair, but it's how it is.
So today, I offer a prayer for Nicola Stuegeon, a prayer from one woman for another, that the joys will outweigh the sorrows, that friends will be found in unexpected places, and that, as she fulfills her call (even if that is purely 'secular') with all its demands she will remain true to who she is.
God bless you, First Minister...
Today, friends in Rochester awoke to the news that a UKIP MP had been elected
Kyrie eleison
Today is the 40th anniversary of the Birmingham pub bombings
Kyrie eleison
Today, in west Africa, people will die from Ebola
Kyrie eleison
Today in the USA immigration rules are changed
Kyrie eleison
Today, TTIP and NHS funding will debated and decisions brought closer
Kyrie eleison
Today, I will take my cat back to the vet
Kyrie eleison
Tomorrow I will visit a friend, probably to say 'goodbye'
Kyrie eleison
Next week, I will begin preparations for Advent
Kyrie eleison
Next week, there will meetings and discusions and decisions
Kyrie eleison
Today, tomorrow, next week, I, we, you, they, will endeavour and achieve, attempt and fail
Christe eleison
Today, tomorrow and always
Dona nobis pacem