26 January 2015
This week will be very much blog light as I am busy doing minstery type stuff and then have a weekend "off", well kind of!
Off soon to the residential Board of Ministry (cross between Min Rec and RSC for BUGB readers) for the first time - very aware of the responsbilities it carries, and taking a moment to pray for the four candidates.
Then it's Wednesday and the funeral of one of our much loved Gatherers. This January seems to be filled with goodbyes... friends, friends of family members, friends of friends. So sparing a moment too, to pray for all who are mournign a lost loved one.
Thereafter one so-called 'normal' day in which I have to prepare a wedding 'sermon' and start planning my next set of preaching before heading south on Friday for my Godson's wedding on Saturday. Scary to think the little baby who I prayed for from the moment I knew he had been conceived is now about to marry in the parish church where he was baptised back in 1989!
Life in all its fulness then, and plenty more I could/should be doing. As I juggle the priorities and try to balance appropriate vulnerability with healthy resilience, I smile to myself and wonder how much of this the candidates I'm about to meet can even imagine... certianly i couldn't have done at their stage.
Back soon! Take care and keep safe.
24 January 2015
Yesterday BUGB published short letters, signed by General Secretary, Lynn Green, that it has sent to leaders of Muslim and Jewish communities in the UK. You can read more here. It was for me, and for many, a moment that made us glad to be Baptists... Sadly for others it was not, and some serious proof text trading has been seen on social media which I find deeply disappointing. When Christians start proof-texting from the Quran, in English translation, to support what sound to me islamophobic perspectives, that is deeply worrying.
I withdrew from social media debate - I dislike conflict, I hate proof-texting and I felt that a few dominant voices were drowning out others.
I so nearly added, and then didn't these two famous quotes, from Thomas Helwys and Martin Niemoller. Yes, both are taken out of context, and yes, both men were flawed, but it seem their words deserve another hearing...
Helwys:
Let them be heretics, let them by jews, turks or whatsoever.... (see it in context here)
Niemoller
First they came for the Socialists, and I did not speak out—
Because I was not a Socialist.
Then they came for the Trade Unionists, and I did not speak out—
Because I was not a Trade Unionist.
Then they came for the Jews, and I did not speak out—
Because I was not a Jew.
Then they came for me—and there was no one left to speak for me.
22 January 2015
So, this morning I had a long lie in (that's a composite anglo-scottish term for two hours extra in bed!) and spent some time sunggling with my two kitties who can purr very loudly! Then on the basis that I use my own laptop for PowerPoint for church, I opted to stay at home to get that done. After that I thought, well, why not give the sermon a go... and I did, and it's OK, not everso wildly exciting but it's competent. And now it is roughly lunchtime and I feel gently chuffed at what I've achieved and a bit more refreshed than I have done this week.
Still some prayers to consider and a heap of admin type stuff to organise, but it's getting there.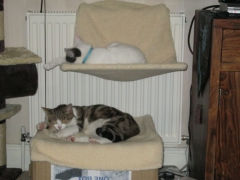 Kitties in their "bunk beds"... Sasha has spent half the morning hurtling round and playing with a toy mouse, whilst Sophie took herself off to the kitchen where it was more peaceful and slept on a dining chair.
As a rule I prefer to work at church, helps with boundaries and is where all my books are, but just sometimes I can get more done at home.