24 April 2014
Today has been characterised by lots of admin, a chance meeting and two pastoral visits. Obviously it is not appropriate to discuss the meeting or either of the visits, but each in its way was uplifting. A conversation about the appalling standards of English grammar may not sound like the stuff of an uplifting time, but it really was. Likewise a shared slice of (rather tasty) lemon drizzle cake and general conversation. Oh, and the all-day breakfast, accompanied by deep discussion, was lovely!
Lots still do before the weekend, but overall it's been a positive week.
23 April 2014
Today I was seeing my GP about a minor but annoying problem (turns out to be tennis elbow; needs physio and topical gel) and she commented on how well I was looking, noting that she'd had to double check my age as she was sure I was ten years younger than I am... good compliment, thank you! Made my Wednesday.
21 April 2014
Apologies to anyone who finds this offensive but I liked it...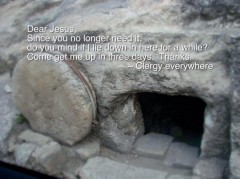 Huges thanks to musicians, choristers, bacon cookers, table layers, craft supervisors, hymnbook hander-outers, banner hangers, chair shifters, table movers, washer-uppers, drink makers-and-pourers, liturgy writers, prayer-creators, Bible-readers and all who made this this such a wonderful Easter weekend. May you all find spaces to rest... and rise refreshed and renewed in a few days time