19 December 2014
"My life is brill-yunt" as the song says... well, if not always brilliant, then certainly it is fulfilling and contented.
And today has been an especially lovely birthday, mixed in with the inevitable seasonal events that happen this time of year!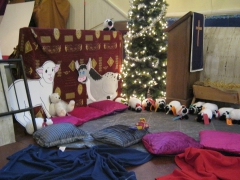 First it was the toddler group end of term party... a wisely planned morning that followed its typical pattern with some festive treats, crafts and then ended up with me telling the story of "the smallest sheep, the littlest lamb, the wee-est woolly" using the knitted sheep from our 'sheep trail' two years ago! It was very magical.
Then it was a delicious relaxed lunch with a friend in Zizzi (other restaurants are available!)
Back to church for the we-don't-do-parties group who were sharing plates groaning under the weight of cakes and doughnuts and warm mince pies as a celebration of Christ's birth (but it WAS NOT a party). We sang some carols, listened to a speaker and had a pleasant time.
Then home to find this waiting on my doorstep: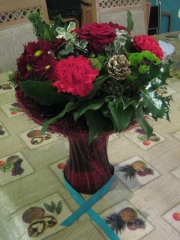 A birthday gift from my "chemo buddies" who are now a group of precious friends scattered from me in Glasgow down to Sussex and all points in between. You may spot some holly leaves - which they had asked to be added as a tribute to Holly cat. We share a special bond, and I was really touched by the flowers and the accompanying message.

Lots of lovely cards, some wonderful gifts - toasty warm mitts, posh jam, posh toiletries, book shop voucher and an owl shaped handbag (!)...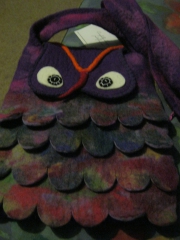 I am feeling really spoiled, feted, loved... it is a very wonderful life.
Discovering that today's 'cross reference" Advent hymn was "let all mortal flesh keep silence" filled my heart with joy! Set to the traditional french carol tune, Picardy, the Liturgy of St James translated by Percy Dearmer is just wonderful. Eloquent poetry, profound theology and gloriously aching melody - what more could a girl wish for?!
The line "as the dark dissolves before you" is just amazing... not the sudden starkness of electric light, but a gentle spreading of the light, more akin to the dawning of a new day. It also feels 'real'... in the darkness and shadows of real life, rarely does light come quickly; rather we discover that its edges become less distinct and, slowy, slowly, lightness, even brightness suffuses everything. Darkness cowers just out of reach, lurking, waiting to roll in again like a fog - but the light will never give in, and one day the final vestiges of death, fear, sorrow, sin will be gone, dissolved into the light: for here surely is the real mystery, the real power - the light dissolves, so somehow contains, the darkness and in so doing transforms it!
Lots of recordings of this one, so I opted for this because it is sung in a cathedral and benefits from that aucoustic...
18 December 2014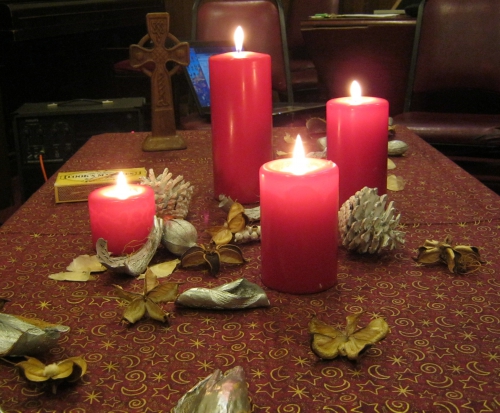 Today was our fourth and final Advent lunchtime reflection using the 'Mary had a Baby' material as a jumping off point.
I think it is fair to say we all enjoyed listening to African American spirituals, learned a lot about the latter days of slavery, the struggle for justice, the civil rights movement and the power of songs to carry both truth and coded messages! We also raised ~£60 for the Christian Aid Christmas appeal which is concerned with maternal health in Africa (as well scoffing yummy food and having lots of fun along the way) and which the UK government will match fund.
Now we begin the last stretch of our journey... Advent 4 proper on Sunday, carols round the piano on Tuesday, Families watchnight on Wednesday and the main event a week today.
Golly that's flown past!!