27 August 2014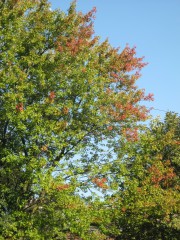 26 August 2014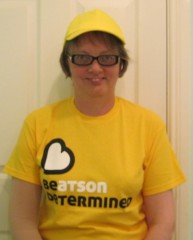 Saturday 30th September is my "legal" fourth anniversary of diagnosis... and I will be putting on a yellow teeshirt to walk 6.5 miles for the charity linked to the hospital that treated me back then.
Despite yellow being a terrible colour for me this photo has not come out too badly!!
There is a day that rises each year now in my personal calendar. A day that has no tidy numerical descriptor. It is the day when I notice that the trees on the bank opposite my house are turning from green via red to gold. It is the day when I silently thank God that I am at the start of another autumn and that 'all is well'. The subtle change in the light, the faintest hint of a nip in the air, the goldeness of the moment.
Four years now. Five times I have watched the leaves turn to gold and tumble to earth as autumn quietly grips the earth.
Five times means four that I feared I would never see. Means that a certain red duffle coat will enter its fifth winter. Means that I am, thus far, in the good part of the not so great statistics.
Today has turned out to be a long day one way and another. Mostly good and nothing nasty. A whole raft of stuff to get done on a day that I noticed the trees begin to change.
Because of the way I'm wired, I guess my personal calendar will always have its memorable dates, even if I no longer choose to mention them to others long-tired of it all. But the turn of the season is precious and beautiful... and as the fifth autumn begins, I quietly rejoice just because I am here to see it.
As I reached the end of a long-ish evening at my laptop and lifted my eyes to the window the sunset with golden glow filled my horizon with fleeting ethereal beauty... blessing are always there to be found if we make or take the time to notice them.