01 September 2014
Today I've been working on the service for a week on Sunday! The reason being I'm off tomorrow evening for my 'real' holiday and wont' be back until the afternoon of a week on Saturday...
I am using the lectionary shunted by a week to fit in a run of weeks on Philippians before harvest in October. So it was intirguinig to me how well the reading fitted the context... or how easy it was to make connections to the context (R - 4 days and churchy stuff too).
Way back in the day when I was studying theology my tutor said it was me making the connections between things, not that they were intrinsically there. Whilst that's true, I can't help feeling there's a bit of Holy Spirit stuff going on too.
This evening I am leading for our monthly theological reflection group as it enters its fifth season... so at risk of a spoiler alert, there will be yiddish curses to get our brains warmed up!!
After that, it's PowerPoint prep from home tomorrow - and then I'm away to Finland for some R&R.
31 August 2014
This morning was our Pledge Day at church - the day on which we were invited to commit ourselves to support in whatever way we are able, and is appropriate for us, the next phase of a huge project we are exploring.
It felt like it went pretty well - the collage of stickers on which we'd drawn ourselves "we are the church" looked amazing and reflected our diversity superbly well. We sang some beautiful songs and hymns, old and new, chosen by me and chosen by our MD and they all blended perfectly.
Two songs I used were particualrly remarked upon, which made me smile as they were two songs I'd learned whilst working with a Catholic church in Swinton... and one of them is actually from Iona...
Whoever we are, whatever we are able to offer, we can do so in this spirit.
30 August 2014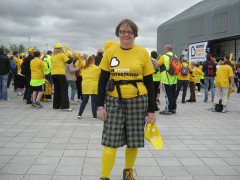 All ages, all abilities, all shapes and sizes, several dogs, a few wheelchairs and several pushchairs
Along roadside, riverside, canalside, pondside and parkside
With drivers 'tooting' their horns in support and people watching from windows as the stream of yellow flowed by
Walking with a friend who was a 'late entrant' in a very super time of 2 hours 10 mins (and given it took five minutes to go the first hundred yards or so...)
A very happy day, and a lot of fun. Amazingly, despite not having sought any sponsors, I have doubled the target set by the charity... that makes me extremely happy.