30 July 2014
A line from East 40's Commonwealth Games song (sadly not been heard at any event I've been to)
So, this is one last push, pull, doing what I have to do to get the message out there about this Sunday's #Glasgow2014 #Cycleroadrace #bringiton #commonwealthgames events at the Gathering Place!

Please, please pass on to anyone who might be interested. Google 'Trystcycle' or 'Commonwealth Songs of Praise' and our public facebook stuff should pop up.
It's gonna be mega and the bake-a-thonis underway with everyhting from bara brith to baktwell tart via shortbread, scones, pancakes, Dundee cake, donuts and anything else we can think of!
BRING IT ON GLASGOW!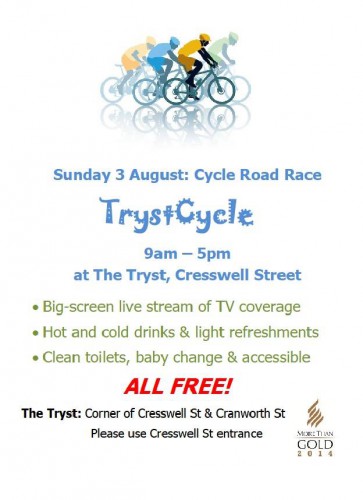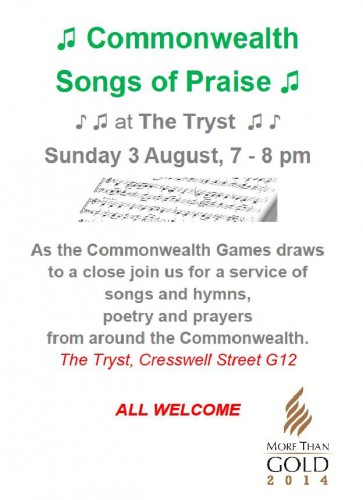 Some people who daft things... like trying to go to lots of Glasgow 2014 events whilst working full time... it is exhausting but such great fun. Today is quieter and will begin with some admin worky stuff before Coffee Club and then netball this evening.
From jocular Welsh security guards to Clyedsiders who still don't quite know their left and right, to jolly Derbyshire bus drivers who know one route and one route only, there is a happy atmosphere and a sense of all being on the same side, all part of one big thing that is bigger than nationality or race or language or any other descriptor... as in Manchester, so in Glasgow, I am granted a glimspe of the vision of 'no more race, status, gender...'
From netball to lawn bowls, rhythmic gymnastics to hockey, I seen some amazing sport, marvelled at skill, agility, athleticism and diversity. I've sat oppsite athletes and officials on trains and buses (none I recognised, they probably don't use public transport). I have shouted for England, for Scotland, for Wales, for Malawi, for New Zealand, for Northern Ireland along with crowds who love an underdog and admire the top flight too.
I have eaten way too many sandwiches, not a few cakes, and drunk copious amounts of water.
I have sat on blistering heat and wondered why I'd chosen to wear jeans, and in pouring rain glad of my waterproof and unbrella.
I have sung 500 Miles in a 'choir' (so not) of around 4000 and done a slo-mo Mexican wave.
There is something that overtakes individuality, be it everso fleetingly (and I know PhDs have been written on it!) and in this case something that it good.
One teensy weesny criticism though.... at every venue I've been to thus far we've been told to stand at various points... nope, "please stand if you can" or "if you are able".... if I can train churches to do this, the Commonwealth Games is my next challenge!!
28 July 2014
Today I am really looking forward to watching some hockey at the Commonwealth Games with some friends, one of whom has walked with me every step of the last nearly-four-years (and who very politely doesn't tell me it's high time I let it all go and move on, even if she thinks so) and I am glad to celebrate my continuing life with her, and with others as we enjoy this once in a lifetime opportunity.
I have just waved off my house guests, a friend of thirty years, her son (my godson) and his finance who have been staying with me for the weekend enjoying some sport, cooking me tea last night and taking me with them to one session. Again a great celebration of having lived through all sorts of life experiences affecting each of us, and still being here, still smiling (most of the time).
But, as I type another much loved friend and walking-buddy is saying farewell to her husband of forty years who died in after tragic accident whilst working at their church. I can't be there physically (though I have arranged to spend a few days with her when I have some time off later in August) so I am holding the family in my heart and my prayers. There is some guilt at not being there - but it's impossible to be in two places at once, and even had I skipped the hockey, I had to be back for an important meeting this evening... I just couldn't make it work
I know, becuase I know all these friends well enough by now, that all of them would have understood perfectly whatever I'd decided to do. I know that had I asked my friends here they'd have said 'go' and my friend there she'd have said 'stay'. But it has been an incredibly tough choice to make.
In the end, and after much wrestling, self-flagellation, angst, and conversation with other friends, I made my choice... I think, and I don't think I delude myself, that my friend's husband would be OK with the choice I made - he'd know I am only at the end of the phone or the email, he'd know I will be there when the fuss dies down in a week or two, and he'd say "y'oright luv" in that lovely Mancy accent of his.
Life is unpredictable, fleeting and fragile - all you loyal readers are probably sick of me saying this - we have to live each day as fully as we can, even if sometimes that means tough, painful choices have to be made.

So, in a few minutes I will brew some tea and use it toast the man who brought such joy to my bestest walking buddy in the whole wide world, and then go and celebrate the fact that I am not only 'still here' but healthy, happy and able to spend time with friends.