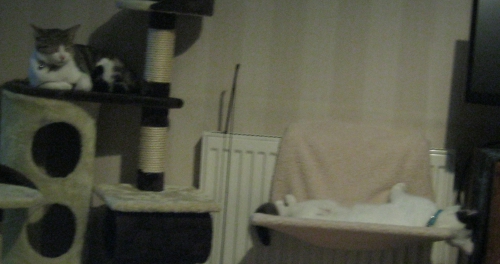 It's just about 77 hours since Sophie and Sasha entered my home, two timid little cats, with a sad back story, who wondered what on earth they had let themselves in for. Sasha, the white one, and younger of the two soon claimed the radiator bed and made herself at home, whilst Sophie, the tabby and older remained terribly shy. Then yesterday an "aha" moment for Sophie as I fastened her collar and she discovered new confidence to start establishing her "rights" too. By 48 hours or so, they were comfortably sleeping in full view, and now, in the above photo, taken just a few minutes ago, they are contentedly snoozing away.
The timing of the arrival of these two furry friends has been good, giving me something to think about apart form church in what has ended up as quite a demanding week one way and another. Practically, with water ingress both at church and at home. Pastorally, with several hours rightly devoted to important matters. It's been essentially a good week, one where at the end I can look back and feel that I did OK, but I am tired.
Watching my kitties find their feet, explore their new home and start to purr has given me some needful balance and forced me to pause amidst the many and varied demands.