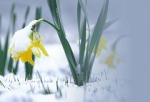 Today we said our last farewell to Rachel in what was the most beautiful funeral I have attended. The simple wicker coffin lovingly adorned with garlands of ivy and daffodils reflected the beauty of the women whose life we celebrated.
Traditional elements mingled seamlessly with the symbolic act of each person adding a daffodil to a giant cross as a sign of ressurection hope. Old hymns and specially composed words flowed in perfect harmony as we gave thanks for the privilege of having known her.
The tribute spoke of a life lived to overflowing and of an endless outpouring of humble love - the choice of Bible reading of the Beattitudes could not have been more appropriate. Rachel would have been embarrassed to think that I might 'post' about her twice but her passing has, in its own quiet way, been almost as influential as her life.
Each person who attended the funeral received a little memory card with these words printed on it: -
Love, like a yellow daffodil, is coming through the snow
Go well, Rachel, to your place of rest and reward. You were a beautiful daffodil sent to bloom for a season bringing delight to our lives. When we see daffodils will remember you, and all you inspired within us. Well done good and faithful servant.
(Photo from Google images)