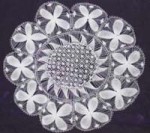 I am due to speak at a Women's World Day of Prayer service on Friday. I am struggling with the 'notes for speakers' which have manged to elevate the temperature of my blood more than somewhat - dangerous, as any good scientist will tell you blood does not boil, it coagulates and you die.
Why so cross? Because there is a horrendous discontinuity between the theme and the notes!
As ever, there are sories of women in the host nation - this year Paraguay.
The first reading is Genesis 18: 1 - 15, Abraham and Sarah and the three mysterious visitors who foretell the birth of a son.
The leader then says 'God was aware of Sarah's thoughts and ideas. In the same way God understands and listens to the longings and petitions of the women of Paraguay'
The service proceeds with some 'real life stories' Here is most of the story of a rural woman...
... As a little girl I was taught to be obedient, and grew up believing I must serve the men - first my father and brothers, then my husand and sons... I live each day silently putting up with everything. My husband is the one who earns the money, so he is convinced that he is the one who can decide everything in our family. My experience is common to many country homes where the woman's value is not recognized.
Then, after a leap of direction to Ephesians 4: 1 - 16 - about unity in diversity, we come to the address.
The speaker's notes for the Genesis passage run thus...
Abraham's response was the offer of hospitality
God renewed the promise made in Genesis 17:16
Sarah's response was disbelief and mistrust
God's rebuke was a rhetorical question
Sarah's fear led her to lie
So here is my problem - we have already identified the Paraguayan women with Sarah and now we are told Sarah is faithless and dishonest. In simple terms, Abraham good, Sarah bad; Male faithful, female doubting. Patriarchy good, equality bad.
Let's just bypass what Abraham did in Egypt, let's just forget that Isaac means 'he laughs.' Let's just affirm the society that keeps the rural woman silent and pray that our interconnectedness (the Ephesians bit) will enable us to mature in faith.
You will have guessed that I will not be following the script! Instead I will be allowing Sarah to speak to our hearts as we acknowledge with her the struggles, questions and doubts that accompany our own faith and life. Sarah laughed - don't we all, at times, male or female, because the alternative would be to weep? Sarah lied - isn't the Bible full of stories of deception and denial, and don't we all lie sometimes?
If we want to work with the spider-web lace image the WWDP people offer us, then surely it is our identification with both Sarah and the Paraguayan women that leads us to the Christ in whom all are valued as of equal worth?
OK, I'll go and calm down now!