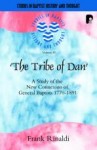 There is an awful lot of Baptist history to be found in books and a lot of the overviews - at least so far as English Baptist history is concerned - tell a consistent tale of the effective triumph of Particular Baptists. Lesser known but vital to the story are the New Connexion General Baptists, of which Dibley is one of the earliest. It gives me a mixture of odd pride and strange bewilderment to think that the new Connexion held some of their Assemblies, most probably, in the pub (then a farmhouse) opposite my front door and may well have worshipped in the wooden chapel that stood on what is now our graveyard.
The Tribe of Dan is a lovingly written work by Revd Dr Frank Rinaldi who tells the story of the emergence of this strand of Baptist Christianity alongside and amongst the framework knitting industry that spread across this area at the same time. Sadly due to ill health, Frank needed editorial health in turning his PhD thesis into a book. I count myself privileged to have been loaned the original manuscript a few years back when I was trying to uncover something of this story. So big thanks to Graham Doel and others who did the editorial work - and if you want a few tiny glimpses of the glory days of Dibley Baptist Church when it was part of an exciting new movement spawned by Dan Taylor (Dan of the title) and centred on the delightfully named Barton-in-the-Beans have a read.
Sadly Barton is no longer a Baptist church (FIEC we think) but there is a tiny Barton and Dibley Trust which pays my folk the princely sum of £6 a year - when the interest rate exists! I just wish I knew what it's original purpose was and what it's founders might make of it all...