It must be Pentecost in Dibley! And indeed it is.
Yesterday's community fun day attracted far less people than usual - only about a hundred I'd guess - but those who came enjoyed themselves playing in the sunshine, munching scones and chatting to friends. It transpired their was a councilled event in the town centre - a kind of talent fest though dubbed by one person who'd been there before coming to ours 'Carbonberg's Got No Talent'. The some meagre sporting event also took place occupying afternoon television and managing to keep a lot of people safely in stuffy houses rather than enjoying he wonderdful weather. It was hard work - a much smaller number of folk involved this year but it was fun. As I staggered to the chip shop at 8 p.m. to get some tea, I did wonder momentarily what the Holy Spirit did about tea on the day of the first Pentecost - she must have been exhausted after prompting so many people to respond to the apostles! ;-)
Today its our open air service, which I always enjoy.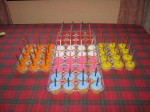 This year we begin with party poppers (and I going to pinch part of Jim's haiku as opening liturgy!) and individual birthday cakes (amazing what can be done with cheepy creepy supermarket cakes and a tube of icing). We will allow various Biblical texts to guide us into some reflections on what it means for us to live as people who are indwelled by God's Holy Spirit - including how we make our election choices this coming Thursday. We will draw faces on balloons (to represent ourselves!) and then blow them up, symbolising our own filling with God's breath of life and will write our prayers on 'flames' to add to a collage of fire.
It should be fun, and I hope it will be authentic too.