From this:

To this:

To this:

To this: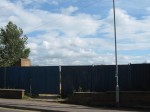 As Jesus was leaving the temple one of his disicples said to him, "Look teacher! What massive stones! What magnificent buildings!"
"Do you see all these great buildings?" he replied. "Not one stone here will be left on another; every one will be thrown down."
The LORD gives, the LORD takes away, blessed be the name of the LORD.