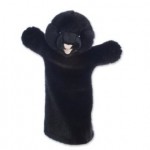 Meet Millie Mole. If you don't understand the awful pun, then you clearly managed to avoid studying chemistry beyond 'O' level/'O' grade/GCSE/standard grade or any other equivalent 15/16+ qualification.
Millie is my new friend and has joined my church where she has already made herself very much at home and is enjoying meeting new people. She speaks very quietly - only I can hear her - but she is very keen to engage in church life. Amazingly she has a good grasp of theology and enough nouse to know when it is better to stay tucked up in my office (such as this Sunday coming) - hopefully she can teach me a thing or two...
Having children and young people in church is WONDERFUL, as is not being the youngest adult! I am really looking forward to this Sunday when the Sunday School will be leading our thoughts on the reason for Remembrance Sunday. Children, especially quite small ones, have an amazing innate ability to sense the 'moment' and can remain still and silent for a whole two minutes, knowing that this is something different.
Millie Mole is fun to work with (though a new challenge in her own right) but having the privilege of sharing with children and young people is a real blessing. I am excited about the opportunities that are opening up to build relationships with them and share in their faith stories.