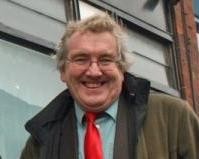 Half listening to the BBC news last night I caught the words 'David Taylor MP' and 'died'. Looking up I saw a photo of my former MP who, at the age of 63, had died suddenly after a heart attack whilst out walking at a local beauty spot with his family. It was something of a shock - this affable and accessible MP was well known through North West Leicestershire and a familiar face in Dibley and district.
I wouldn't say I knew him, but we were on first name terms - a characteristic of his style of working - and certainly many of my former congregation knew him quite well. Living about 6 miles from Dibley, David was a stalwart of his local parish church, I believe a church warden at one point, and he gladly came and spent an evening at our "thing in a pub" talking about faith and politics with those who would come, around a dozen of us. That says a lot about this man, who would interrupt a busy schedule to be among his people.
David was happy to be a back-bencher and revelled in constituency life. Whether or not you shared his views (and he was quite often in trouble with the whip being more 'old labour' than 'new') you had to admire his conscientious hard work and genuine concern for those he represented. Having already decided to step down at the next election, Daivd's term of office was already nearing its end, leaving a legacy of love and respect. My thoughts are with his family and his constituents at this time of loss. Well done, good and faithful servant. RIP.