... or a dirty job that someone has to do... and I will...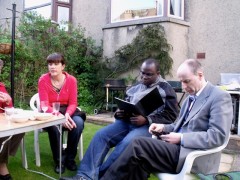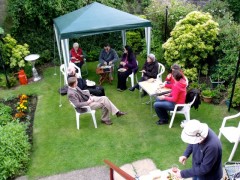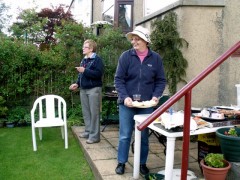 Yesterday our Theological Reflection Group had its 'end of term' barbecue. The sun shone and around a dozen of us enjoyed an outdoor repast.
Today I have a lunch meeting which is in part a promise keeping exercise, dating back to last autumn when I made a pact with someone to have lunch once all the active cancer treatment was over. Business and pleasure - a mix of which my former boss was very much in approval.
Tomorrow I am out with the Coffee Club for a scenic coach trip, picnic and high tea as we mark the end of year (but don't close for summer, we carry on supping our coffee/tea/hot chocolate/Guinness regardless)
Thursday is a bit of church archive cupboard clearing. The hoarder/lover of Baptist history in me has some trepidation over what gets junked; the responsible person in me is thinking 'data protection' and 'why do we really need that...?'
Friday a 'normal' day in the office.
Saturday hopefully nothing much to do other than my exercise class.
Sunday is the Sunday School end of year celebration combined with marking Trinity Sunday, then our second Philosophy Cafe with a title something like 'What Are Universities Really For?' and then our evening choral communion for Midsummer.
After that I have a week off! It feels slightly weird to be going away for a while - kind of strange not having to be in easy reach of Glasgow. So five days in a holiday lodge (including a bit more promise keeping that dates back 14 years!) and a weekend visiting family. All good fun.
Photos (c) KF