If you are a Gatherer and don't want a spoiler for Sunday, look away now...
Otherwise, if you are a Sunday School leader, children's worker, Brown Owl, GB officer or other such thing you may be vaguely interested in what follows.
This Sunday our theme is "Stories Jesus Told About Parties" and it is all age, slightly mad and very interactive. During the "grownup's talk" (I like a bit of subversion don't you?!) the children will be invited to make themselves party hats. Most of our children are quite tiny and they won't have very long, so I was really pleased to find the idea I am using...
Take one paper plate about 9"-10" (23 - 25 cm) in diameter and turn it upside down.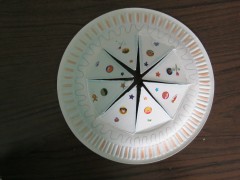 Draw a line diameterically across the middle part (leaving the 'fluted' edge plain). Turn the plate through a quarter turn (90 degrees) and draw another diameterical line (you have four equal sectors). Now draw lines bisecting the others so that you have eight sectors.
Carefully cut along these lines so that you have eight triangular 'points.'
Decorate the 'points' of the crown with stickers, felt tips, glitter or whatever is in your craft box.
Carefully bend up the points and, hey presto, a party crown for a small person.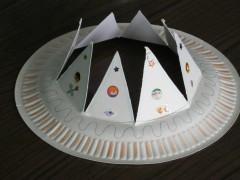 If the crown is too small you can carefully extend the the points into the 'brim'
Have fun... we will!