Been a very busy couple of days - and in terms of physical labour I've done a fraction of what others have done.
Yesterday afternoon "the people kept a comin'" to our afternoon tea, story-telling, christingles and carols event... we had expected about 30 based on replies and it was more like forty in the end - even though a few who'd hoped to come didn't make it! Thankfully it did not descend into total chaos, and a good, gentle, time was had by all.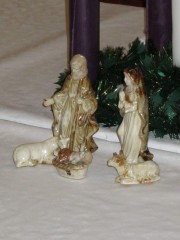 Today we met 'cafe style' with coffee pre-service and welcomed a number of visitors to join with those of us spending Christmas at home... folk from Eastern Europe, Asia, Australia, USA... and England! Once more they kept arriving, and our slightly mad, heavily interactive service went well. Then it was all hands on deck to serve Christmas dinner to around 40 guests, before finally returning home to flop.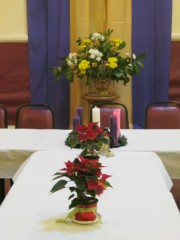 This time last year I was just stepping out of work for four months as I awaited and then had surgery. I'd enjoyed the services and events, but a cloud of anxiety had lurked nearby. This year I have enjoyed them whole-heartedly, and last year feels, just now anyway, a vague memory.
One little funny thing - my Christmas gifts incliude two pairs of gloves, a scarf, two woolly jumpers and a microwave hot water bottle type thing... given I am currently drenched by a 'tropical moment' I don't think they'll be getting much use any time soon!
I am now 'off' for about 10 days - a couple of Bank Holidays and then a week of leave. Blogging light - and hopefully plenty of resting.
Merry Christmas everyone... back in the New Year!