Perhaps that should be 'good evening' given what time I am typing it?
It you were hoping for something profound from me today, sorry, it isn't here. It's been my day off, spent mostly on trivial but necessary tasks, and I have thoroughly enjoyed it... it's been a 'good day'.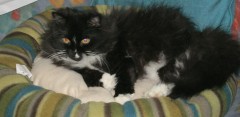 Holly is a happy cat... today whilst in a remainders book shop I spotted they were selling "pet's pad" animal beds for £6 and had some in a colour that matched my decor! Here she is, happily curled up in her new fleecy bed, which will hopefully mean less "bits of Holly" stuck to the settee itself.
Today I called into my bank having been summoned for an "account review" something I usually detest. However, today the guy doing it was cheery and set up the means for me to use internet banking in a matter of moments. So easy! Why didn't I do this years ago? As the RBS fiasco means that my local NWB is scheduled to be sold to Santander, and as my account holding branch is in England so I won't, internet banking seems a good plan.
This afternoon I had the deep joy of a dentist appointment. All was fine, and for once the hygienist didn't tell me off! As I sat there with her scraping away at my teggies, I pondered how much less awful I find these encounters than I did a couple of years back... my fear of dentists, doctors and hairdressers has, just about, been cured! Took some extreme measures to do it, but hey, I'll take the silver linings when they arise.
And now I am simply "chillin" as I await the arrival of my groceries by the nice man from the supermarket, and feeling that yes, today has been a good day.
The old adage of counting blessings is a good one, and today I feel I've been well blessed.