This morning as part of our service we used a selection of 12 pictures of Jesus stilling the storm, from Rembrandt to contemporary interpretations. People were given a picture at random and invited to spend a minute looking at it, then to share what struck them with those near them. The idea being that every person sees something in the picture that says something to them, and that may be the voice of God.
Here is one picture, which I 'borrowed' from another blog and I found very worth sitting with for a while...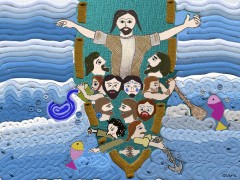 Picture From Christ Port blog

For me it is the diversity of facial expressions and reactions that is striking, echoing as it does the diversity of human responses to crises.