Today's worship was, if I may say so, simply awesome. Awesome is an overworked word, too often used for something that is averagely good, but for today's service its use is justified.
Yesterday's hard work paid off richly - the baptistery was toasty warm, and its central location really caused people to stop and stare. I was especially struck when two small boys came in ahead of their father and stopped, rooted to the floor, eyes like saucers as they looked over at the (to them) huge tank of water.
Music was spectacular, with our occasional guest trumpeter and a cellist to augment the piano. The choir, though depleted numerically due to holidays were on great form and sang several peices in Yoruba as well as some beautiful works in English.
The testimony of the baptismal candidate and those of folk covenanting with us as members were profound and moving... reminding us that we are never 'ready' but always a 'work in progress;' that love and support in action speak volumes; that the answer to 'why now?' is actually 'why not now?'
There was no sermon, there did not need to be one - and even at that the service ran to almost 90 minutes. The pace was leisurely, the sense of oneness quite palpable, the presence of God's Spirit indisputable.
After we ended worship, we shared a lovely buffet lunch, ate a cake specially baked and decorated by one of our members and then a team of folk drained, dismantled, dried and repacked the baptistery ready for collection tomorrow.
I have not yet got any photos to post, but they will come. For now, here are the plastic ducks (and a few other creatures, less those rehomed with the children who shared our worship today) which descended upon the water as the service ended... And lo, I saw the bag opened and the spirit descended like a duck....? A bit irreverent, but generally well received - watching the children playing with the ducks seemed a fitting end to a wonderful morning.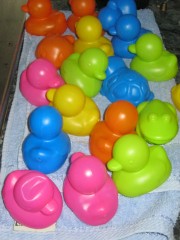 Preach the gospel - if necessary, use words.