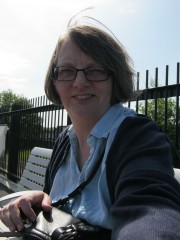 For some reason this morning, given that I had a few minutes to wait at Buckshaw Parkway railway station I decided to take a quick snap of myself "sitting on a railway station, dreaming 'bout my destination". A beautiful, summer, Saturday morning.. I should have anticipated the impact it would have on our fragile public transport system!
The first train was one that began at Manchester Airport and terminated at Blackpool. Even though I would only be on it for ten minutes and one stop, I had a seat reservation as a result of online booking. The train arrived about five minutes late, and, seeing that it would be physically impossible to get into the carriage with my booked seat due to standing passengers, sprinted to the nearest open door and jumped in. Sunshine on a Saturday - seemingly by the time the train had reached central Manchester it was standing room only. I hope whoever had my seat enjoyed it... even had I been able to get into that carriage, I could not have reached the seat and then got out again.
Arrving at Preston, late, I had another sprint, over the bridge for the Virgin train to Glasgow. Except it, too, was running late. When it arrived, someone was in my seat, and muttered something about having double booked herself before moving to another, empty seat in what was a fairly heavily booked carriage. Stuck behind other delayed trains - even after it had phoned and asked to be allowed to overtake the one it was due to connect with, and been denied - the train got later and later, reaching Glasgow nearly 20 minutes late.
Never mind, I thought, only a few minutes to go on a local train to Hyndland which is, after all, the centre of universe. Except there was a man at the top of the escalator turning everyone back "no low level trains at all." I contemplated walking up to Queen Street, and then on a whim decided to jump onto the Subway. I knew the Subway had been out of action since Wednesday (when I'd had to rapidly re-plan a route) so was relieved to find that one circle was operating, and that was going the short way to Partick - phew. Or not. With passengers crammed in to the extent that Londoners live with daily, the Subway, like the first train of my day, was cram packed with people, and some were left standing on the station platform.
So, a walk up from Partick and I was home - safe and sound, about an hour later than planned, and pondering the fragility of public transport. And, I suppose also, the wonder at how rare it actually is for major disruption to occur or continue for more than a day or so.
For all that, I really hope the trains are behaving tomorrow when I head off on a blendedevening journey to Manchester Airport involving three trains and a bus!!
How easy to grumble when a train is late,
A booked seat occupied,
A connection missed,
A diversion needed
Yet how grateful we should be
For the fragile wonder
Of safe, bascially reliable,
Public transport.
For buses and trains, may God be thanked!