In 1999, I moved to Manchester to train for Baptist ministry. It was a city about which I knew very little, and of which I was a little afraid. Over the next four years, I fell in love with this gritty, edgy, diverse, warm, rainy, post-industrial diamond-in-the-rough city where strangers at bus stops tell you their life history. There's a gruff, self-depracating humour about the place, and a resilience to adversity that is admirable.
In Manchester I learned loads and was 'initially formed' for ministry, a process that now continues in another rainy, warm, diverse city, which I love just as deeply.
The image above is a piece of art by Jim Medway that captures something of the essential Manc psyche. A Saturday night on Oxford Road and lairy clubbers exchange banter and trade insults in a bus queue.
Some thoughts.
The first time I went to the Manchester Arena (then MEN) was for a Soul Survivor 'Message to Manchester' Christian event in 2000. Young people from all over the UK came to the city to 'bless' it with practical actvities such as gardening, clearing rubbish and helping bring hope to broken communities - and they did; the lasting legacy is well recorded.
Manchester Commonwealth Games 2002. Highlight of the Games, for me, was watching the netball finals at the (then MEN) Manchester Arena. Afterwards, adults and children of many nations spilled out of the arena in Victoria station in merry mayhem. Sports commentators commented on the friendliness of the city, and how taxis and service buses stopped to pick up people for free.

And then 2017, events still unfolding in the news of lives lost, people injured and displaced. City centre hotels opened their doors, individuals their homes, taxi driver switched off their meters. The GMP, North West Ambulance, NHS, first responders and people of good will leapt into action.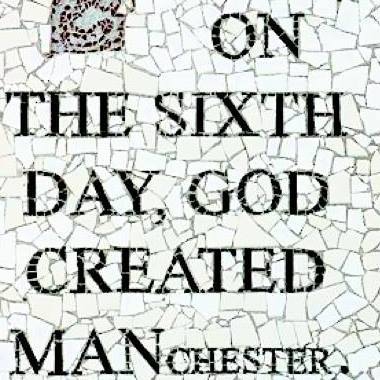 This image captures quintessential Manc cheek and humour.
For me, at least, it also expresses a profound truth... this diverse, resilient city is one where values of love, compassion, righteous anger, hope and faith are to be found.


Good is stronger than evil,
Love is stronger than hate,
Light is stronger than darkness
Life is stronger than death
If praying be your thing, then please pray for Manchester. As well, or instead, you might like to light a virtual candle here or here