Some of my readers are kind enough to appreicate my 'prayer doodles' so here's another.
Last night at my GPRL course, one of the resources we were offered to reflect upon/pray with was the poem The Kingdom by R S Thomas. During the evening I created the doodle below, and then today, at home, the one above. They aren't art, they are doodles, reflections, prayers... and they work for me!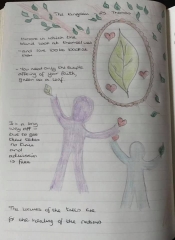 Here's the poem. I wonder what strikes you?
It's a long way off but inside it
There are quite different things going on:
Festivals at which the poor man
Is king and the consumptive is
Healed; mirrors in which the blind look
At themselves and love looks at them
Back; and industry is for mending
The bent bones and the minds fractured
By life. It's a long way off, but to get
There takes no time and admission
Is free, if you purge yourself
Of desire, and present yourself with
Your need only and the simple offering
Of your faith, green as a leaf.