Windfall apples from Clydebank; blackberries from Yoker and Scotstoun! It amazes me how few people I see gathering blackberries, and even the odd looks I get when I pause to pick up windfall apples. Is this a country bumpkin thing? I don't know, but another great haul!
Today's walk was a little over eleven miles according to the website I used to check it, and it was really good fun - from home up the canal, along the canal to Clydebank, where I am sure I walked almost a mile following the arrows round the shopping centre, and then back along the road via Yoker and Scotstoun.
Truly we are blessed to live in such a beautiful city where, within a mile or two, we have rivers, canals, parks and hills. It was at times a rather wet walk, but it was such a joyful one, with autumn beauty and bounty all around.
Now there is nothing quite like a scalding hot cuppa whilst the blackberries and apples cook!
This sign in Greggs, where I stopped to buy a sandwich for my lunch, made me chuckle... (not very clear - keep apart 2 metres, that's about fifteen sausage rolls)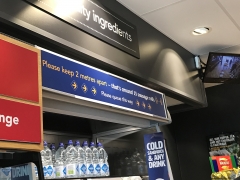 Thank you, God, for autumn abundance!