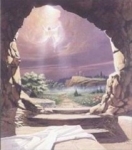 (Picture from Google Images; copyright status unknown)


This year Easter has been a very different experience as every step of the way we have been in a different venue with different people. What has struck me about this is that in some ways this is more like the gospel record and less like nice traditional churchy Easter rituals.

On Palm Sunday we met in our familiar setting of the primary school. I kept it fairly traditional, partly because the previous two years I'd made it quite creative and partly because this year we have had a lot of 'one off' services – I felt people might like at least one point of relative stability. That said, I did try to get them to offer statements of praise out loud as our 'prayers of approach.' I don't know how many people joined in, as I did give them permission to whisper rather than shouting! It was a far cry from the Palm Sunday exuberance recorded in the gospels. Maybe I don't have the ability to stir up a crowd, or maybe someone else has more 'power' in keeping them quiet - who knows? Anyway, I finally delivered my thoughts on the two crowds and the quiet, focussed Jesus who was the only one who was clearly authentic; the still centre amidst the hubbub.

Tuesday was the final lunchtime prayer meeting and my loyal group met at the manse to ponder the Beatitudes for the last time and share in a soup lunch. Over the six weeks we raised £100 in donations (including some from the two Monday evening events) which we will split between The Leprosy Mission and BMS Relief Fund. I hesitate to compare the manse to Bethany but it has been a place of quiet fellowship, and the homemade soup (they frown if I serve bought stuff!) has gone down well. This is the third year now on this pattern and I am wondering how we can build on it without it turning into a dull routine or a tiresome burden – maybe a monthly meeting would be possible year round but with weekly prayers in Lent and Advent as at present.

Maundy Thursday and for the second year running we joined with Dibley + 1 mile and Dibley + 2 miles Baptist churches for a supper and communion. Dibley + 2 is currently undergoing major refurbishment and looks like a building site; it will be lovely when it's done and will see the fellowship there move into a new phase of their mission and ministry as their former 'sanctuary' becomes a multi-purpose space. As a result of the building work, there was limited electrical power and lighting, and as dusk gathered the candles were lit as we shared an Iona meditation Remember Me Today led by members of the host church followed by a simple, if rather "liturgical" communion. The meditation was quite powerful. As I leant against a pillar while we sang 'When I Survey The Wondrous Cross' and the last hints of daylight gave way to flickering tea lights, and again as chairs were shuffled round for us to pass the plate of bread, I had a sense that this was somehow closer to the Upper Room than many, if not most, Maundy Thursday services I have or will experience.

Good Friday – the Churches Together children's event with adult crèche – or so one of the vicars calls it. This year I was overseeing the adult side and decided to have a bit of a change from the previous two (or more!) years, adapting a service offered in the Roots resource material. Trying to coordinate readers and participants from five churches was interesting but my Methodist and Anglican colleagues were (on the whole) very helpful. The service was quite visual, but I was particularly struck by the some of the audible aspects. The sound of the nail being hammered through the titulus echoed through the building and the sound of the curtain being rent in two was also quite effective. Despite the 15 minute delay as we waited for the children to re-join us at the end of the service, it seemed well received and the quiet period acted as a helpful bridge between our serious reflecting and the children's frolicking.

Easter Saturday – or Holy Saturday for purists - was as liturgically unsound as possible! My little sister, who refuses to eat hot cross buns except on Good Friday, because she asserts it's liturgically incorrect, opted to have a 40th birthday party on this date (and it wasn't even near the day of her birthday!). Had to be a party pooper and leave early in order to drive back from the well inside the M25 - I needed to be up early on Sunday (maybe unlike us here, Hertfordshire URCs think God has a lie in on Easter Sunday!). An interesting experience because I actually find the 'lost-ness' of the Saturday quite an important part of the whole Easter experience.

The Easter early service was a joint Methodist-Baptist event with my colleague leading Communion and me preaching. I chose to use the whole of Mark 16, including the 'longer ending,' to pick a theme of a 'never ending story'. I always fancied composing my own synthesised gospel story in a style that combined the styles of the various writers: kai euthus, meta tauta, egeneto... (Just to prove my slog through trying to learn NT Greek wasn't totally wasted, despite the fact that this text editor doesn't allow me Greek letters!) – I guess Mark 16: 9-20 almost does this. The sermon almost got missed out – my colleague got so carried away with his prayers and Nicene Creed that we had to slot the sermon back in rather hurriedly before he got too far into the communion liturgy! Just as well I'd kept it short (as requested) and felt sufficiently confident to abandon my notes and simply talk. Sadly only a handful of my people chose to attend, and the whole congregation less than 20, but the Methodists were good hosts and the sermon well received.

Sunday evening and Dibley plus 1 mile for third 'date.' A good day for it, being such a significant place it the Christian calendar. A very skilfully led reflection on John 20: 1- 18 invited us to note how each person who came to the tomb saw a bit more than the one before until, finally, Mary as the apostle to the disciples not only saw and understood but was commissioned to go and tell. I wonder, though no allusion was made to it, how each 'date' between our two congregations maybe allows us to see and understand a little more of what God might be saying about the future of our two fellowships? I guess only time, and a few more trips back and forth, will tell.



Tomorrow is Easter Monday and a chance to pause! I guess in some sense Jesus has already gone ahead of to 'Galilee' and will meet us there. In the meantime, it has been a very different Easter with a sense of 'borrowed rooms' that all too often is lost as we meet in our familiar places for our familiar routines. Whilst I have missed the freedom to create a 'whole' Easter experience, I have benefited from being less a leader and more a participant. Whilst other Easters have been far more significant at a personal/spiritual level, this one has brought its own insights, for which I am grateful. The gospels show Easter as a time when donkeys, rooms and even graves were borrowed whilst people travelled back and forth along the way to understanding just what was happening; as we've met in borrowed rooms and travelled the odd mile or two between services, perhaps we have in some way had an experience of Easter that extends beyond what we'd anticipated or would ever have engineered.