I am meant to be studying this week - the last of my blocks of NAM study time agreed with my church. I have been fairly good, reading stuff for my new course, and for my next sermon series, and I will be off to Manchester for three days to do some course stuff. I have also wanted to use some of the time to reconnect with God in a more tangible (is that the right word? I'm not sure but it's the best I can up with) way. I decided take myself off to a nearby country park to 'walk and talk' with God. There were no warm fuzzy feelings, no profound moments, yet at the same time, I came away feeling that perhaps I had benefited.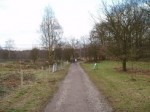 It may not the be the most stunningly beautiful country park in the world but it has some pretty good views on a clear day. In the mist it took on a slightly ethereal quality and familiar paths, shrouded in greyish whiteness, became slightly mysterious, distances difficult to discern and sounds muffled.
There is a so-called labyrinth near the 'lower' car park, a decking walkway with twists and turns designed so that you never can quite see what's next. There, hung from the branches dew-jewelled spider webs defied the dankness, and passing through a dark tunnel of overhanging branches was the mischievous humour of a carved wooden crocodile - complete with a leg in its mouth. I found myself pondering Pslam 23 and the recent song based on it: 'I will trust in Him alone.'
Returning to the main pathway uphill the visibility was reduced and I had no way of telling how far along I was, until I came to familiar landmarks. An information panel speaking of finding the past in the future (alas I have forgotten the exact phrase) described how this was once a settlement, became ovegrown and neglected and now has a future that reflects its ancient past. Not quite sure what that said to me, but I sort of get it, I think.
Onwards, and upwards for about a mile all told, through the mist and murk, seeking the summit: a great parable of my own seeking for God this morning I thought, as odd lines from Pslams of Ascent floated into my mind 'I lift my eyes to the hills, where does my help come from...' I felt a sense of kinship with the ancients who slogged up mountains seeking an encounter with God when actually, unseen and undetected, God was already with them.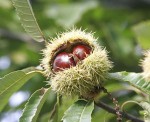 I paused to gather some sweet chestnuts that were falling, quite noisily, from the trees. Spikey outer cases protecting hard shiny wood, hidden inside which would be delicious flesh. Lots of food for thought too. Notably the decadence of the natural world, the sheer wastefulness of so many chestnuts, conkers, acorns, blackberrie, elderberries... Later I saw other walkers were collecting chestnuts, looking a little guilty as I passed as if somehow they should simply allow this generosity to be wasted rather than enjoying the natural bounty.
Finally the summit came into sight. Atop was a group of walkers talking loudly, disappointed perhaps that having reached their goal there was nothng to see but mist. But maybe that's part of the point - by coming with a predetermined idea of what to see we risk not discovering what there is to see.
As I rounded the bend in the pathway and began the descent, I found myself calling to mind the theme of the sermon at my ordination service - about living between the mountain and the plain, the place of God-encounter and the place of God-service, and the need for each of these. I know I have tended to spend myself on the plain rather than the mountain, know that it will always be a tension I live with.
I met far more people as I came down the hill, perhaps somehow symbolising a re-engagement with the 'plain.' A photographer lay in wet leaves adjusting the settings on a camera to perfect a picture of fungi on a tree stump; a couple walked in silence, just more than a companionable distance apart; a group of ramblers talked as they left the path to explore the undergrowth; dog walkers called to their dogs; a woman seeing a friend exclaimed quite loudly what a frightful day she'd been having since her car had been scraped in the supermarket car park. Endless stories, silently meeting and parting.
I got back to the car park and headed homewards. I hadn't quite done what I set out to do but somewhere in the misty murky morning, between the mountinan and the plain, in the things I thought and the things I didn't feel, something of God was.
In the Screwtape Letters one of the things the junior devil is told about Christians is our desire to feel God. A Jewish ghetto prayer from World War II says 'I believe in the sun when it is not shining... I believe in God though he is silent'. Somewhere in these words, and in the mist shrouded walk I took today, I am reminded that it is not what or how I feel that matters, not whether my spiritual life is wonderful or not, but simply that God Is.