I have just got back from three days in Manchester where I've been at the first residential for my doctorate in practical theology. It was a busy time, I met some great people, caught up with some friends and had quite a good time but I came away somewhat befuddled.
I had not aniticipated the library tour being almost at the 'this is a book' level, nor a guide who did not how how to register to use the computers in order to reserve or renew books from offsite. Thank goodness for the nice people on the help desk who in exactly 20 seconds completed the process for me! Highlight of the library tour was probably the fire alarm going off. I am sure our guide is a lovely person who adores books but please...
A public lecture and 'master class' by the grandaddy of urban theology Ken Leech kind of set the scene for the whole weekend. He has some great stories to tell of his time in East London, but I'm not too sure how much I gained to help me in my own research in terms of insights into method, research ethics, etc. Shame really, I had hoped to find something to help me; maybe he has just been doing it for so long that it is intuitive?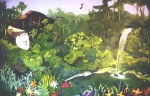 Most surreal part of the 'weekend' was a visit to the Greenhouse vegetarian restaurant near Rusholme. We arrived at a place that looked pretty well derelict, were greated by an ageing hippy who announced that half the menu was 'off' but that he had various other things not on it. Organic, vegan, gluten-free roasted thingamajig - very tasty when it arrived, but an hour's wait between ordering and serving - roast table leg would have been good by then! Nothing Fairtrade though - ummh. Still, it was a good opportunity to chat to people and it became the talking point of the rest of the event (maybe should have been the subject of the theolgocial reflection exercise we were set?!) Picture stolen from their website, btw.
I came away knowing, finally, who my supervisors are to be and vaguely what the first year deliverable is, so at least I can now begin to ask the questions I really want to ask and get going on what I really want to do.
A lot of work went into creating the weekend, and I admire the self-giving of the staff who organised and ran it. It is easy to criticise, I know, but I am a little concerned that I am spending a lot of my hard earned cash being some kind of guinea pig (perhaps when Dibley manse collapses they can put me in a cage with a wheel to run on). I am bemused, bothered and bewildered but hope that in due course the mist might clear.