Somehow in my preaching plan, I managed to forget Remembrance Sunday. It is not my favourite event but, here in Dibley, it is something people like to keep. Last year I was quite pleased with what we achieved - it was creative and it was challenging: trouble is I had set myself up to fail this year as I didn't want to reuse that material but it was so wide ranging I struggled for new ideas. The CCTBI and Britsh Legion websites - and even the alternatives from more pacifist perspectives - seem to suffer from the unhelpful face of traditional anglican-style liturgy. In other words, even the 'new' service is very much a civic service with the same old hymns and words, and expectation that the national anthem will be sung. There is a place for that, of course, but not three o'clock on Sunday afternoon, and not singing the national anthem in a Baptist church.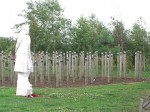 Eventually I settled on the 'The Seven Sayings from the Cross' and am fairly eager to get my head around how I can reflect on them in relation to both remembrance and the horrors of war and violence. I am also intending to use a sequence of images with the Barber Adagio for Strings as accompaniment - war photos, terrorism photos, local soldier killed this year photos - and then a montage of some of them as a cross. I think it sort of works. And at eight minutes plus it cuts down the time I need to talk!
Is there maybe a place somewhere for sharing alternative ideas for Remembrance services? I cannot believe I am alone in finding it difficult to know how to handle them.
(Photo is 'Shot at Dawn' memorial at National Memorial Arboretum Alrewas)