How long does it take to erect scaffolding round a Victorian Baptist church? Four days evidently - one lorry load a day.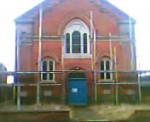 The photo is not exactly clear - taken on my phone (I really must get around to buying a digital camera) - but it gives a hint of the next phase in the end of the old barn. I got home from an all day meeting yesterday to a plethora of phone messages including one from the builder wanting to borrow a key to get into the building. All very honourable but given the number of smashed windows the vandals used hardly essential!
It will be interesting to track the demise of the old place over the coming weeks/months: my guess is that once completion is through and the bats have left home it will soon be demolished.
My wonderful late Regional Minister, Revd Peter Grange, longed to drive the JCB or swing the demolition ball to bring it down. It's a shame he won't get to do it - and I guess none of us will either - but at least once it's done the land can do God's work again providing homes for people who can't afford the nutty prices of big developers.