More extra miles being walked by our demolishers - well not ours exactly - as they delivered all the plaques that had once graced the chapel walls to my driveway to await transfer to our graveyard where they will form some sort of lasting memorial to, er, the building! The sale contract requires them to salvage and return to us four inscribed foundation stones from the front of the building (which will come down quite soon now) but we had accepted that the plaques would have to go with the building.
So now my drive looks like the yard at the undertakers - littered with monumental stonemasonry - and reversing onto it is 'interesting' as fit my Saxo into a smaller space than usual avoiding damage to the plaques and protecting them from vandals and thieves.
Just in case burglar Bill passed by I have photographed them all, and the one below recalls the first ever minister of this church... from Orton to Gorton in two centuries!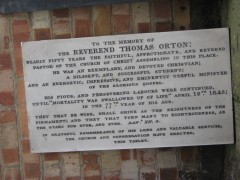 Some how I can't see a plaque to my memory ever being erected in a church - for which I am extremely grateful - nor will I serve a congregation for 50 or more years as this chap evidently did!
PS If the image makes you wonder about the manse wall maybe I should point out that the plaque is on its end so the photo has been rotated (hence the rather strange perspective effect) - Dibley may have its quirks but building houses by laying bricks on their ends isn't one of them!