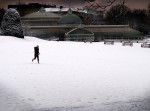 I would love to claim that I took this photo, but actually I stole it from the web. The snow in the photo is far deeper, crisper and, um, evener than the stuff I attempted to photograph this morning. The combination of my lack of photographic skill, the level of light and possibly my very basic camera meant that the lovely view I saw with my eyes never quite made it to pixel-land. If you time it right, there is a wonderful trick of the light whereby a street light shines through the rear-most dome of the Kibble Palace giving it a golden glow piercing the darkness of an early Glasgow morning. The former BBC building and other nearby residential blocks form stark silhouettes against a purple-gold-fuchsia sky and it is truly a sight to behold. Then a few moments later it is gone as daylight floods the city, the traffic roars along arterial roads and work begins.
In this part of the city we have very little snow, though side streets resemble skating rinks and last night I found myself uttering a middle-aged 'tut' at the child who was sledging down the path of the Botanics (why when there is all that grass....?). As the nation struggles on, we are able to enjoy something that only university cities can appreciate - the stillness of the lack of students. The city is given back to its longer term residents for a few days and we enjoy the space that results (though I suspect some of the cafes desperately miss the trade).
As radio and television issue warning after warning of snow and chaos, and as we sort out our own contingency plans (the snow on the roof is probably about 1 to 2mm, and there is no more evidence of plaster spalling, in case anyone is worried!) it is good to take a moment to enjoy the wintry city. Later today I will be out and about making a couple of visits, procuring the last few bits I need for upcoming events and enjoying (in a way probably only I do) the buzz of last minute shoppers desperately seeking that elusive gift. And then, before we know where we are, it will be over again. All the preparation concentrated into a few short hours of high intensity before life moves on.
I will be taking a few days out from blogging and then, after conducting a wedding on Monday, a week off to visit (roads permitting) family and friends at various degrees of southness from here. So this is my Christmas card for 2009.
The golden glow shining through the glass dome has a kind of defiance that echoes the words of the gospel - the lights shines in the darkness and the darkness cannot defeat it. 2009 has seen a lot of changes, and for a lot of people whose paths crossed mine a lot of darkness, my prayer for all is that the indefatigable light of Christ glimpsed this Christmastime will bring courage, hope and peace for a future as yet unknown.
Whoever you are, wherever you are, whatever you are doing this Christmas, may God bless you.