It was a year ago today (to the equivalnt Saturday, not the date) that I sat in the office of the Dibley manse waiting and wondering what was happening in the Gathering Place. A year since, on a sunny June day I looked out over a by now largely cleared site that had been the home of Dibley Baptists since 1875 (when they moved from the site they'd occupied since around 1749).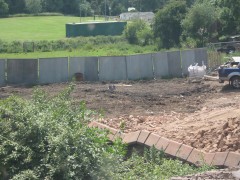 A year since, with trembling hand, I picked up the telephone to receive news from Scotland that would decide what the next chapter looked like.
A year on, of course, we all know that the outcome was, and I have now been in post for around nine months, but it is amazing how, even now, I can feel the tension in my muscles and the trepidation in my heart I felt then as the minutes ticked past.
It is good to pause for a moment or two and reflect on the last 12 months - a personal rather than a church-related moment, since it overlaps two pastorates in churches which, outside blogland, share the same initials (I am, despite everything, still the minister of _BC).
In the last year each of these churches has seen a lot of change. Well established work has reached its natural end and new things have been tried. Much-loved friends have died, others have moved on and new friends have arrived. Once church is now numerically larger and the other numerically smaller; one has concluded a building project the other has one that rumbles on for the foreseeable. One is a special place in my memory, the other my present home; both are part of who and what I am.
A year has whizzed by all too swiftly. Good things have been achieved and mistakes have been made: such is real life.
Today the sun is shining brightly, and I am tapping away on my laptop in the comfort of my living room before deciding how to spend the rest of my day. Tomorrow we celebrate our Sunday School 'end of year' in the morning and in the evening a gentle and reflective choir-led communion. Between the two, Professor Werner Jeanrond (theology, Glasgow) leads one of our contributions to the West End Festival with a public lecture/debate entitled The Politics of Love. It will be a very busy day, a very 'Gathery' day, a very God-given day.
A year ago today, give or take, I felt a kairos moment occurred... and today its outworking continues. No trembling muscles or butterflies today, just the assurance that I'm where God wants me, doing, as best I can, what God wants me to do, being, for the most part, who God made me to be. So, on this 'kairos plus one' day it is good - and from deep within my soul cries 'Alleluia! Praise God.'