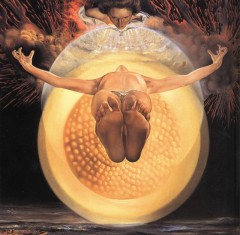 Salvador Dali, Ascension
Ascension Day.
Not a day many proddy nonconformists mark.
Today there will be, if tradition prevails, a Churches Together Communion service for Ascension in Dibley.
This time last year I had it in mind to do something for Ascension this time around. Events overtook that. Maybe next year...
Anyway, I have already been sent Ascension Day greetings today... and this is mine to you!
"When he had led them out to the vicinity of Bethany, he lifted up his hands and blessed them. While he was blessing them, he left them and was taken up into heaven. Then they worshiped him and returned to Jerusalem with great joy. And they stayed continually at the temple, praising God. (Luke 24:50-53 NIV)