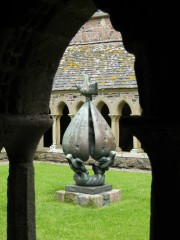 The news is full of tragedy, in different places and on different scales; it is telling and it is good that in the parts of blogland I frequent no one is making value judgements as to which tragedy trumps which. A number of wise people are simply noting, side by side, the tragedy of the events in Norway and the tragedy that a talented and troubled singer died at the age of 27. Some add other ongoing tragedies - famine, war, natural disaster. Others maybe note local and personal.
Sometimes the temptation is add more and more names and places to our prayer lists, eventually finding them so long they cease to be meaningful. Sometimes we feel a real 'burden' or 'calling' to pray for someone or somewhere. Sometimes we can only sit, wordless and bewildered, listening to the sound of silence, straining to hear God's quiet whisper, trusting that the Holy Spirit is interceding on our behalf.
Words fail me far too rarely, as the plethora of twaddle I post reflects, but today when I don't know what to pray into the global news, I sit in silence and trust God...
(photo is 'descent of the Spirit' at Iona Abbey taken through archway of cloister)