What does a minister do on Saturday evening? Some, I am told, write their sermons (if I don't have a draft by Wednesday I'm anxious!). Some collate topics for intercessory prayer (I tend to check the news Sunday morning and tweak what I've already prepared if needed). Some go out! Usually I do the ironing - but this time it was way too hot. Tonight I did proptypes for tomorrow's craft activities... and here they are: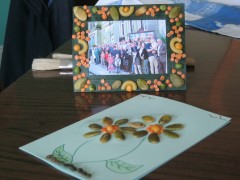 Given our theme of stories Jesus told about plants, it seemed appropriate to use seeds and pulses (all from my store cupboard and all past their use by date!) to make photo frames and cards. Hopefully there will be some children to make them...
Eagle-eyed readers may recognise the photo of the Gatherers (taken about 3 years ago) which I printed off to put in my frame.