Recently I posted on approrpriate and inappropriate humour in relation to Christianity.
Over the last day or so another area of inappropriate and, to some people offensive, humour has come to light in relation to charitable fundraising. I would have to say, my view on this teeshirt is that it is just plain wrong. It doesn't offend me but it is totally inappropriate.
When I was being nuked, I nicknamed myself Robyn, an avian in-joke which was readily understandable but was amusing because it came from within the relevant context. I understand that women who have sentinel lymph node biopsies are injected with a blue dye which turns a certian part of their anatomy blue for a while... they have another avian in-joke. And of course oral yeast infections are offically referred to as thrush, which brings a third possibility.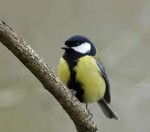 I am astounded that a tee-shirt manufacturer and a respected charity can think it is funny or appropriate to sell a tee-shirt featuring two of these birds strategically located, when many of those affected by breast cancer would, to be blunt about it, be pleased to have two t*ts at all. As someone on the forum noted, would someone sell undies in aid of prostate or testicular cancer with equivalent images or implied comments strategically placed? I think not.
Humour is a powerful tool, but sometimes it seems that some important filters of taste and decency have got lost along the way.