So it was an afternoon when it rained on and off in Glasgow.
There were not many students on the streets, and most of those we saw were with parents (even at the end of freshers' week) and not wanting to be fed.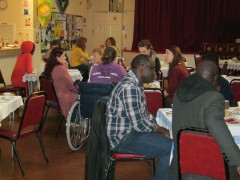 But for all that a small number came through the doors and enjoyed hospitality, scrummy homemade food and good chat. Among them Malawian who arrived yesterday and has come on a scholarship to study drug and alcohol aspects of public health, two oriental students doing business courses, and a few Scots girls. We had some good conversations, enjoyed our time together as young and old shared.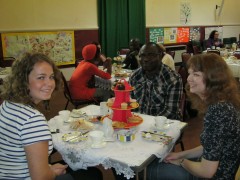 It was a lot of work - many thanks to the team who put it together - but I enjoyed it and think the quality of conversations counted for far more than any measure of quantity. Tomorrow we may have more students arriving to worhsip with us, and I hope they will find the welcome we long to offer them.