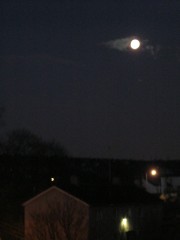 A view from my window overlooking (roughly) Broomhill. Though not clear in this photo, the first light of dawn was grazing the horizon, a hint of pink in an otherwise indigo sky. Streetlamps pierced the darkness with their sodium glow and the sound of commuter cars rumbled beneath my gaze.
It is no secret that the part of the Memorial Arboretum at Alrewas to which I am always most drawn is the the 'shot at dawn' memorial. The place where simple marker posts bear the names of men and boys shot as deserters in Wolrd War I - some of them having previously been decorated for gallantry. That they were eventaully all pardoned 'en masse' does not take away the sting of the experience of standing there on an chill morning, having read examples of the 'last letter home' and the kangaroo courts which summarily executed these men.
I am glad we live in an age when PTSD is recongised and those traumatised by their experiences receive help and support.
If it offends my military friends, I apologise, but just before dawn I chose to remember these men who died in the service of their nation.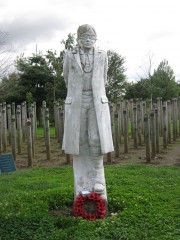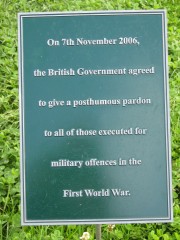 Eternal rest grant to them, oh LORD, may they rest in peace