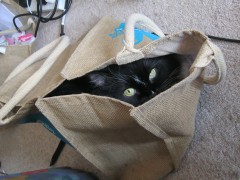 Holly likes nothing better than to climb into a bag and hide... as she did yesterday evening!
Today she walked off in disgust as I settled down for yet another cupcake bake-a-thon...
capuccino
lemon
blueberry
chocolate
vanilla
All waiting to be decorated, and I still to make some plain and cheese scones. Good fun and all in a good cause.