Today I have enjoyed an olympic sized bake-and-decorate-athon. I now have an olympic sized disgrace of a kitchen to clean up. But here are some examples of my handiwork.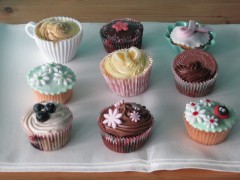 Nine designs of cupcake
Three kinds of scones
Jam tarts
Sausage rolls
Been fun! Just hope lots of hungry customers turn up...