Today it is exactly a year since Holly took up her appointment as manse moggy. During that time she has charmed yoiung and old alike, and has made some progress in training this human (though I still resolutely forbid her access to my bedroom). It is hard to imagine there was a time before Holly, with her huge eyes, motorbike purr and crazy antics. At the moment I am not her favourite human, I have been dematting her (which translates as cutting off the dreadlocks) but on the whole we get on really well and she is always fun to have around.
Here she is watching her favourite Olympic sport of dressage: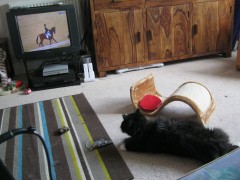 And here engaging in feline rhythmic gymnastics (with red spot and floor apparatus)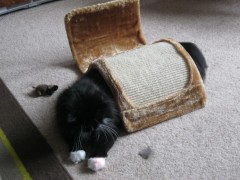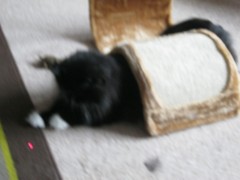 Happy Anniversary Holly - and your official (pet insurance date of birth) birthday will be marked in September.