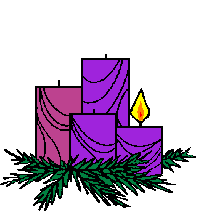 It has already been a demanding and busy weekend, and in roughly three hours time I lead worship for Advent 1. To add to my (self-imposed) pressure, I have made a practice of blogging through the penitential seasons of Lent and Advent. As my cat woke me for the third time this morning (5 a.m., 6 a.m. 7 a.m.) I groaned, rolled out of bed and half wished I was a 'normal' church member who could just dip in and out. So there you go, that's honesty for you! Having to come up with some words for today - why, oh why, did I say I'd do this?
Advent Sunday is the beginning of the new liturgical (church) year. In those churches who use liturgical colours, the green of 'ordinary time' makes way for the purple or violet of the 'penitential' season. In may churches, Advent wreathes or rings appear, with candles coloured according to diverse scheme... purple, pink & white, red & white, white & red. We way even begin to set up nativity scenes with Mary and the angel, as a means of building tension and anticipation.
So there is a snese of irony that in many preaching schemes, Advent 1 focuses on the second coming, the eschaton, the end of time (other schemes may centre on 'God's people' or ''the Patriarachs') which is where we will looking today. Scary, apocalyptic readigns that really ought to disturb rather than comfort us, not because they speak of God zapping the bad guys (I don't think they actually say that) but because they remind us of our own meld of frantic busyness and Kingdom inertia. Anticipation is not merely 'looking forward to' rather it carries a sense of 'pre-empting' - in the here and now, as the Kingdom slips in by stealth, we are meant to be the signs of hope, of joy, of love, of grace. Which is flipping hard work when we are racing around doing the stuff of Christmas.
So today, I will force myself to stop, if but for a few moments, to start at the end and think backwards. because 'end' is not just 'finish', end is also 'telos' or 'goal'. If we are honest when we pray 'your Kingdom come', then this is the end that shapes our beginning this Advent.
Thy Kingdom come, Thy will be done on earth as is heaven...
This is the goal, the aim towards which we live and work
This is the fulfillment for which we wait, more of less impatiently
This is the bewildering, mysterious, wonderful, beautiful
Demanding, terrifying, beguiling hope that inspires us to follow you
Lord Jesus Christ.
Maranatha! Come Lord Christ, and make all things new
AMen.