Not the liquorice variety, though I discovered recently that Sainbury's own label ones are free of paprika, so safe for me to eat. Just been a week of all sorts of stuff, of varying degrees of interest to anyone.
Not the greatest start to the week as the ludicrous run of days took its toll on my no-longer-25-year-old body and I ended up sleeping for nearly 24 hours from Easter Sunday and then developed a manky cold. This cartoon was doing the rounds, so it wasn't just me...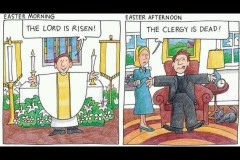 There was interesting news from my old Baptist College regarding the appointment of their new co-principals here. Rev Dr Clare McBeath was a year above me at college, and lived next door to me for three years in an old rectory on the Moss Side/Hulme border. As she was someone who had to cross Hadrian's Wall in the southerly direction in order to train for ministry, it is a doubly special appointment. Glen is a proper Yorkshireman in whom there is no guile.
In common with thousands of others, I signed an e-petition dismissed as a 'stunt' asking Ian Duncan Smith to live on £53 a week. However, there is another one running that cannot be simply ignored here. It is probably quite telling that this one is growing less rapidly than the other one, so if you agree he should put his (lack of) money (for one week) where his mouth is, perhaps you should sign it?
I've been saddened at the reactions to the conviction of the couple who started a house fire in Derby which killed their children. Not sad that they face long jail sentences, they committed a crime, with tragic conseqeucnes, and must pay the price. I am sad at the baying for blood by people who can't know the circumstances that shaped these people, sad at the ridiculous links being made between benefits and unusual lifestyles. Lots of people have benefits - including many ministers, so does that mean everyone on benefits is automatically 'religious'... I rest my case!
Then there was my own moment of guilt and shame... Holly being a very long-haried cat who hates being brushed is prone to matted fur, which has to be snipped out. This usually ends badly, with me being scratched and her hiding. Yesterday it ended badly with her being snipped and needing to go to the vet for stitches... oh the guilt! oh the shame! I was half expecting the vet to be on the phone to the RSPCA oops Scottish SPCA as soon as I arrived. Instead she was lovely and said "don't worry, we see this all the time". Really? So poor Holly has been patched up and subjected by a very nurse to a VERY severe haircut (I said trim all over...) to the extent that for now she is a short-haired B&W cat. Still very gorgeous, and with kitten soft fur, but not happy with me or the vet! Evidently it took the very nurse fifteen minutes to catch her and get her into her basket to come home last night!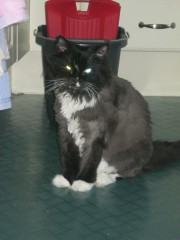 Let's just say if you saw my left hand, Holly has exacted reasonable revenge!
So now it's a small matter of getting organsied to go off to vist family tomorrow - a post Easter treat... I'll try not to spread too many gemrs on the train as I travel!!