It's that time of year when I buy a new diary, and need to decide what sort I want this time. For the first half of my adult life it wasn't something I ever thought about because my employers doled out slimline diaries every autumn. So when I started buying my own diaries I tended to follow suit, black or navy blue slimline diaries that were totally functional and inconspicuous. For a while I moved over to buying charity diaries, still slimline, and then onto A5 or A6 diaries from such places as 'The Works' (other cut price bookshops/stationers are avaialble blah de blah) because I resented paying a lot of money for a glorified notebook.
In more recent times I have shifted to A6 pocket diaries, and last year opted for one with a red cover, a slightly more decadent approach, but still largely functional.
This year I happened to be in a local independent book shop (read: expensive) browsing their diaries. There were plenty to choose from, mostly in nice sensible, sober designs, with lots of pages given over to stuff I'm not interested in (like the best vintage for a bottle of wine or the time difference to some random central Asian nation). And then I found it, the diary I had always wanted but not known it!
A neat little A6 snap-shut diary-cum-notebook with LOADS of space for jottings on lined, squared and plain paper. Better still its cover design of brightly coloured red cherries on a black background had a near Proustian effect as I called to mind one of my childhood petnames.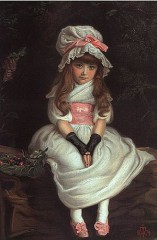 I don't know why, but one of the names my Dad used for me was 'cherry ripe' (it is certainly one of the less embarrassing ones!) and I can recall as a child being given a postcard of this painting entitled 'Cherry Ripe' by John Everett Millais.
It is hardly a sophisticated painting, but it holds a place in my memory. I think it may have hung in Kelvin Grove Art Gallery when I visited there as a child, but a quick online search is not offering any corroboration or refutation of this.
Anyway, I have my cherry ripe diary, a bit of shameless self-indulgence.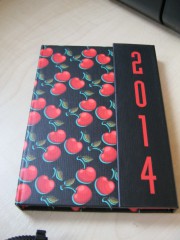 I still think that £7.99 is rather a lot to pay for a pocket sized diary-cum-notebook but it brings a smile to my face when I look at it, holding together childhood memories, lessons learned from confronting my own mortality, and hope for tomorrow. Such things are surely worth more than mere monetary value.