This year I seem to be so busy being busy that my Lenten intentions for blogging are falling by the wayside.
This week's photo is from New Zealand, and from the War Memorial Musueum in Auckland. The walls of two huge halls bear the names of those whose lives were lost in WWI and WWII, and on a further blank wall is this inscription: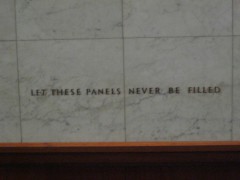 "Let these panels never be filled"
A prayer? A wish? A statement of hope? A declaration of intent? Yes.