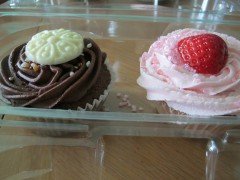 It's been a while... not done any baking since before Christmas, so it was fun to get up early this morning to start on a bit of a baking frenzy... two separate lots to do and lunch out in Falkirk to fit in as well.
So these are part of the first batch - little gifts for the friends with whom I am having lunch. It's a long time since I've seen many of them so I'm looking forward to a good blether and lots of laughter.
Then, in a moment of rashness a few wekes ago, I offered to bake for the inter-church BBQ taking place tomorrow, and need to knock off a couple of batches for that - it won't take long and I can decorate them this evening or tomorrow morning so the pressure is not too great.
Above all it's fun - most people like cake, and it's lovely to do something that brings happiness to others.