Rhythmic gymnastics with my house-guests - what a wonderful morning's entertainment, these girls are so clever combining agility with precision skill in throwing, catching and twirling pieces of apparatus. Icing on the cake to see Francesca Jones of Wales win gold in her last ever competitive event: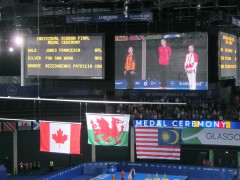 Then it was a complete change of pace and a wonderful open house with G&M who were celebrating their diamond wedding! What a wonderful achievement, and such a joy to see them and their family enjoying the afternoon.
It's been wonderful - I feel very blessed, and thank God for another great day.