We had waited such a long time for this day to come. We had lived with the challenges of finding a suitable venue, the disappointment of postponement due to severe weather, and now finally it arrived.
The Baptistery was built for small, skinny Victorians, and whilst all our candidates were reasonably lithe, one was taller than the baptistery is long! We knew it would be a bit tight; we also knew it would be fine. The water was (thankfully) nice and warm if a bit on the shallow side.
It was a glorious afternoon, full of faith and love, laughter and tears. Everyone who could come along, came along.
Listening to stories of faith, and the real cost of following Jesus from people who had left their homelands, was inspiring and challenging.
After the service we shared tea, and our friends cut a specially made chocolate cake which bore their names, was decorated with the flags of many nations - their homelands included - and was topped off with a banner proclaiming 'his banner over us is love'...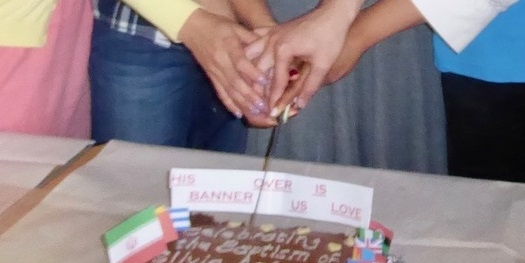 Sandwiched between a morning service for Trinity Sunday and an evening sevice reflecting on aspects the Lord's Prayer, and with a common theme of community weaving through the entire day, it really was a very wonderful way to spend a Sunday.