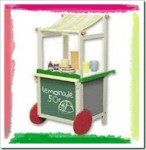 Thank you Angela who awarded me this prize in the latest blog-tag game!
The rubrik of the tag-a-long runs thus:
This award is meant for people who are positive, show gratitude, and of course: make lemons out of lemonade!
The rules for this award are that you post the graphic for it, write a post that links back to the giver, and then pass it on to up to ten others. Leave a comment on the blogs that get the award, so they know what's happened
I'm not sure my alchemy skills run to making lemons from lemonade - but hey!
I'm not intending to add a load of links to other blogs - some people hate being tagged thinking it is not even vaguely fun, and all of us are way too busy to do so even if we think it is fun.
So, this prize goes to those who have stopped by over the last year, especially those who have left comments, emailed or phoned me, and been generally supportive and encouraging during the "ups and downs" of life at Dibley BC this year. If I go for special mentions, by way of thanks, someone will get missed, so forgive me for not doing so. Instead can I use the 'space' to 'pray out loud' for Lucy seeking settlement (happy birthday for tomorrow); Sean, Katherine, Sophia & Lucy (another one) off to Australia (hope you get over your lurgy quickly!); Steve soon to leave for Africa; Julie at the end of NAM (yeay!); and anyone I know who is faced by challenges and changes in church/vocational life. All sounding like a radio 2 dedication slot now!