Before I set off, one of the good wishes messages I had said 'be a traveller not a tourist' which I took to mean, slow down, don't try to do everything, spend some time doing 'local' stuff and savour every moment.
So that's what I've been doing - and I'm having a fabulous time so far.
As I'm paying silly money for internet access I thought I may as well pop up a quick post here.
A few random thoughts base don things people said to me before I set off...
On Dubai Airport
"It's all bling, you'll hate it"
"It's all bling, you'll love it"
Actually, it's just an airport with most of the same shops as any other airport I've been to. I loved the diversity of travellers passing through representing all of humanity, found it oddly reassuring to be woken from fitful sleep in the lounge by the early morning call to prayer and equally annoying to hear the relentless cries of 'All gates A please take lift up'.
On New Zealand
"It's just like Scotland with better weather"
"It's just like England with better weather"
Actually, it's a lot like New Zealand! Yes, very British-ish and yes, in some ways like Scotland and in some ways like England. Certainly Auckland is an easy place for a middle-aged solo traveller to be, plenty to see and do, no language worries and the cars use the correct side of the road!
A skinny latte roughly 1000 feet up: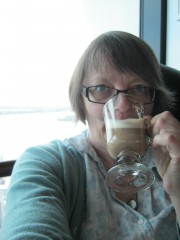 Other gastronomic curiosities have been:
a square donut at Dubai airport
a spinach muffin (it worked!) in Auckland
seemingly beef and cheese pie is the local fast food indelicacy, so maybe that'll get tried too.
Lots of outings booked and paid for - and plenty of time just to 'kick back' and relax.
More pics and comments to follow in due course...