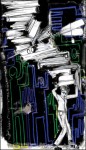 This picture is how I feel, even if I bear no resemblance (beyond the glasses) to the person in it.
Writing my literature review is taking way longer than I feared and I now need to make some 'swingeing cuts' to get anywhere near the word limit.
I guess my problem is that I have only two ways of expressing myself (i) consise (ii) extremely and unashamedly verbose. I could write the whole thing in a dozen sentences or I could write it in an epic. In between is tricky.
So, I'm going to be a good girl and try to take a break from blogging until I have a complete draft - course I might need a distraction now and then...