Last night I watched a BBC 3 biography-cum-documentary thing about a young man with terminal cancer. It was tenderly done and, although I did find my working class origins outing themselves (he came from a privileged background which gave opportunities only money can buy), it served as a good illustration of someone living life in all its fulness. He did seem to be a lovely, genuine and courageous person, and his family very loving and supportive.
Today Annie has her follow-up appointment at Christies - a scary prospect (thought of course she doesn't say that) as she will be making important decisions that will potentially impact both the quantity and quality of her life. So if you're having a cup of tea then spare a thought for her, and if you do praying please give her a mention.
Another person I'm in contact with has her breast cancer surgery today and has asked me to pray for her... maybe you could too? God knows her name and circumstances, and what she really needs is peace and reassurance.
Late (by my standards) last night Annie posted this little picture: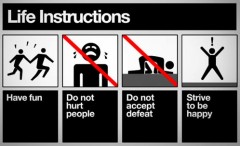 Strive to be happy - do star jumps? Not with a cup of tea in my hand! And actually, without being too indelicate, since my surgery, erm, no (one of my exercise videos has them, I tried and ...ouch). But maybe a little bit of skipping or hopping or whirling round and round.
Have a hope-filled day, have fun, do star jumps (or equivalent), live life to the full... and have fullness of life (John 10:10 for those do chapter and verse!) In the words of the Chris Evans' breakfast show "happy Friday everyone."