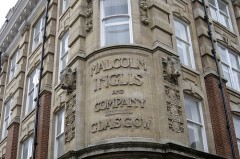 My endeavours to locate a photo of the carved Glasgow coat of arms in Northampton failed miserably, but I think this is part of the same building. Thanks to mira66 for posting this image under a creative commons on Flickr. (I hope this constitutes adequate attribution)
So far as I can ascertain this company is long defunct and this is probably the only surviving building bearing their arms.
Other branches were in Leeds, Leicester, Bristol, Manchester and London.
It's always worth looking up when you're walking around as there often amazing, or at least interesting, bits of architecture to check out.
(It seems from other searches that this firm were tanning factors which fits in a shoe town)